Skip Navigation
Website Accessibility
Wake up for bREAKFAST!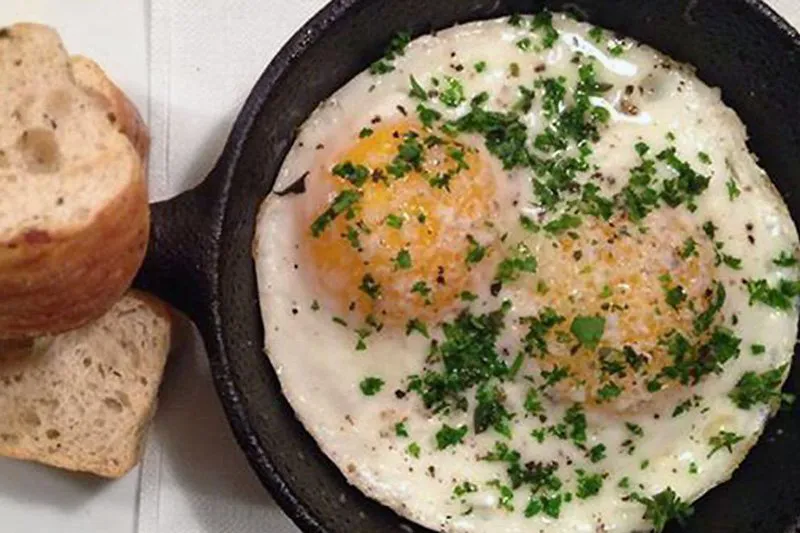 Here at the PineCrest Inn we are happy to offer you a complimentary fully-cooked hot breakfast each morning. We feature local items when available and delightfully sweet temptations. Please understand as there is only one Innkeeper, we are not always able to offer selections to choose from but we do provide something different every morning (alternating between sweet and savory dishes) to accommodate our guests with something special to look forward to daily. We apologize if we are unable to offer you something specific to suit your personal preferences, outside of gluten-free, vegetarian, vegan and non-dairy.
***For those with special medical dietary needs, please alert us at check-in so that we can better prepare for your breakfast.
CELIAC NOTE:
Our kitchen is not a "celiac" kitchen. We try to limit exposure to gluten but please understand we cannot guarantee any food item to be 100% free from gluten. Thank you for understanding.
We have several very nice local restaurants in and around Gorham....
MK Kitchen
(fine dining/
Reservations are strongly suggested
),
Sebago Brewery
(casual/great menu options),
Gorham House of Pizza
(GHOP) with gourmet pizza and sandwich choices,
Amato's
(Italian menu/take-out),
Azul Tequila
(Mexican fare),
Junction Bowl
(All-American menu and bar),
Sidecar Whiskey Bar
(Wine, Whiskey/Specialty drinks and Tapas) all within walking distance of the Inn. Check out our sample menus in the Office Guest Area with these and many other choices.
Small sample of Other Dining Options: Lunch & Dinner
**If great food is your world,
area Portland Restaurants are your Oyster!**
Duckfat – Small European-leaning sandwich shop & cafe known for its duck-fat Belgian fries & milkshakes.
43 Middle St. 04101 - (207) 774-8080 - http://duckfat.com/
ISA - Seasonal New American fare is served in this brick-walled bistro with tile floors & tin ceilings.
79 Portland St - (207) 808-8533 - http://isaportlandme.com/
Davids - Imaginative fish dishes & more in a classy space with large windows overlooking Monument Square.
22 Monument Way 207-773-4340 http://davidsrestaurant.com/

Eventide Oyster Co. - Tiny, busy seafood joint with a raw bar, lobster rolls & creative New England fare, plus cocktails.
86 Middle St 207-774-8538 - http://www.eventideoysterco.com/
Central Provisions - Eclectic restaurant serving small plates & cocktails in a rustic, brick-walled setting.
414 Fore St. 207-805-1085 - http://www.central-provisions.com/
Back Bay Grill - Quiet, contemporary spot in an out-of-the-way location serves refined American & European cuisine.
65 Portland St. 207-772-8833 http://backbaygrill.com/

DiMillio's On The Water - Popular marina mainstay offering seafood and great harbor views, dining on a docked former car ferry
25 Long Wharf 207-772-2216 www.dimillos.com
Petite Jacqueline - There's usually an upbeat vibe at this quaint & cozy French bistro overlooking Longfellow Square.
46 Market St 207-553-7044 - http://bistropj.com/

Miyaki - Creative Japanese cuisine including sushi, omakase meals & dishes sourced from the owner's farm.
468 Fore St 207-871-9170 http://www.miyakerestaurants.com/

Union - Seasonal New American fare, house cocktails & craft beer offered in a casual, sophisticated space
390 Congress St. 207-808-8700


Frog and Turtle – Gastro Pub with live music, cocktails Mellow eatery & bar serves upscale takes on hearty American comfort classics.
3 Bridge St, Westbrook, ME 04092 - (207) 591-4185 - https://www.thefrogandturtle.com/


If you are visiting Kennebunk or Kennebunkport we suggest the following

Old Vines - Rustic-chic bistro in a converted bi-level barn offering inventive small plates, cocktails & wine.

173 Port Rd, Kennebunk, ME 04043 - (207) 967-2310
Davids KPT - Sophisticated hotel restaurant offering regional cuisine & a raw bar, plus 2 bars & outdoor tables.
21 Ocean Ave, Kennebunkport, ME 04046 - (207) 967-8225
The Ramp - Comfortable, easygoing American pub located directly below the more upscale Pier 77.
77 Pier Rd, (located inside Pier 77), Kennebunkport, ME 04046 - (207) 967-8500
For dining north of Portland if you are visiting or returning from Freeport
**Royal River Grille - Upscale yet casual spot for wood-grilled seafood & steaks, with sweeping marina & water views.
106 Lafayette St, Yarmouth, ME 04096 - (207) 846-1226


If visiting Portsmouth, New Hampshire on your way to or from Maine
Gas Light - Hopping, historic, multilevel haunt with a tavern, pizzeria, nightclub & a deck with live music.
64 Market St, Portsmouth, NH 03801 - (603) 430-8582
Portsmouth Brewery - Upbeat tavern serving pub fare with global accents plus house-brewed beer in airy digs with a patio.
56 Market St (603) 431-1115
Cava -Rustic-chic bistro & wine bar offering Mediterranean-inspired tapas, a tasting menu & chef's table.
10 Commercial Alley, Portsmouth, NH 03801 - (603) 319-1575